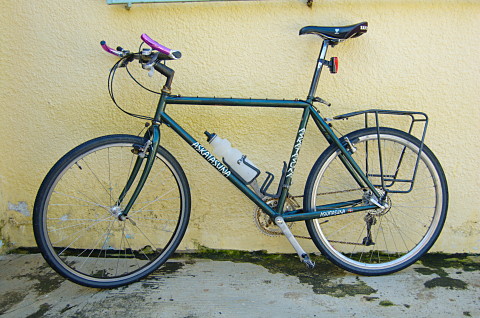 You have been good to me all these years. I purchased you in the fall of 1993 in Maryland while I was attending my Army Officer Basic Course at Aberdeen Proving Grounds. During that time, we toured the Chesapeake, navigating the hidden inlets, enjoying the beautiful fall colors. There was such a rush of freedom and headiness in those early weeks that I got carried away and wiped out. You carried a ding in the top tube until the very end.
Later I moved to Boston and commuted to work from Mass Ave, left on Commonwealth Ave and straight on out to Brighton (if I recall correctly). I lived in an Apartment in the South End, and you were my ride. Life was good. I had my panniers, a Star Market 20 minutes away (kept me in shape), and a beautiful town. I used to tool around the city on weekends, making sure to take in the way along the Charles River.
Next we went west, San Francisco, Noe Valley… way the hell up in the clouds. It seemed we lived on a 90 degree grade. Those were the times I was in the best shape of my life. If only I was still competing, I lamented. Those San Francisco hills exacted a heavy toll from my ride to the 24th Street Bart Station Embarcadero Bart Station. Okay it wasn't to the Bart Station, because duh, that was downhill, but coming home, the ride was brutal. Sometimes (err… frequently) I would wimp-out and ride the bus. I still did my shopping and around town errands on two wheels. Good times, those were.
After Laura and I got married, we moved to Oakland. We got a place on Lake Merritt. Here's a shot I took back in the day. Beautiful. I loved Oakland.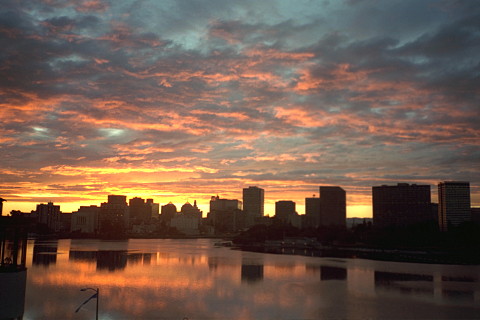 I used to ride my bike to the nearest Bart Station and catch the train to San Leandro. There was no shower at my workplace, so pedaling to work was not a viable option. I'd ride home though. It was a good way to finish the day. I'd stop off in a park in Lake Merritt and do some pull-ups, push-ups. Then I'd go for a 3 or 4 mile run with the neighbor.
1996 rolled around and we were off to live in Spain. My bicycle got to pedal around the Basque Country, the south of France, and even a stage in the Tour de France in 1997. We did the first stage of the Pyrenees. The ride wasn't so bad, but I got the worst sunburn of my life. Ouch.
I took classes in Spanish at the university in San Sebastian. Rode my bike.
I did some of the shopping on my bike.
And I rode for fun. It was always fun, even in the rain and the chill.
Around this time, the paint was looking a bit ratty, so my friend Iker and I cooked up a paint plan. I worked in their little bike workshop (avid racers all) removing the paint bit by bit with some sort of sulphuric acid compound. Later, the father of Mari Fran (Iker's girlfriend), sweet man that he was, did an awesome paint job with in a metallic forest green. Iker and I drew and cut out some vinyl lettering that read "Askatasuna" or "Liberty" in the Basque Language. It's a political slogan, but I latched on to it because my bicycle has always been my liberty.
We left Spain in 1998 and came to Puerto Rico. My bicycle has continued to serve me well since that time, but alas, the brutal heat and humidity, salty air, and my prodigious quantity of sweat had caused my Liberty to develop this: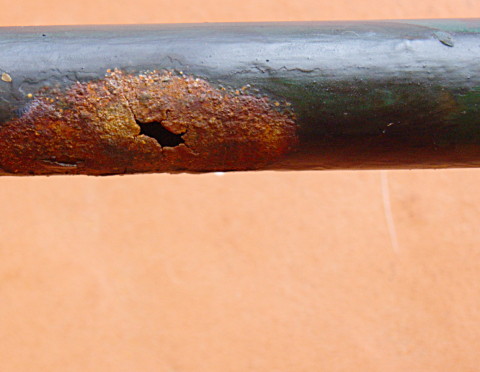 I discovered the hole while I was scraping the paint. This August I attempted to patch areas of, what I thought were, surface rust. The problem went way beyond the surface, though. Now, I know this looks bad, but I still had to go for my morning ride. There were eggs, milk, diapers to be bought. I wasn't going to let a little structural deficiency stop me. I will continue to ride you, Mr. Bike, while I cobble together parts for a transplant. Besides, if I remember my engineering properly, the top tube resists a compression force, not really any shear force. It should be good, I hope.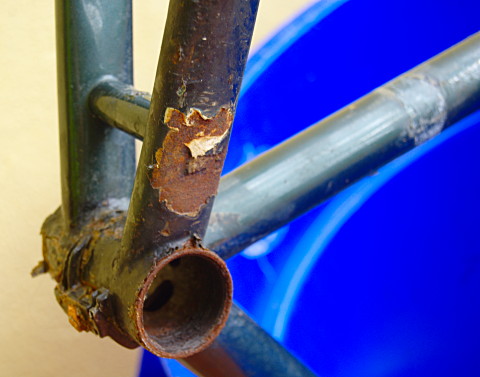 Good God, what was I thinking?! I am an idiot. You see? This evidence reveals two important aspects of my personality: I love my bike… can't get enough riding, AND I can't throw shit away. Sigh. By the last two days of its existence, the frame was making strange noises like those in a disaster movie.
"Did you hear that?" an unsuspecting character asks.
"Hear what?"
BAM! – the walk way collapses, the wing snaps in two, the floor crumbles, the wheels fly off, or cargo bay 14 decompresses violently.
Fortunately for me, Ebay came to my assistance in the purchase of the following (including shipping):
Aluminum frame – no more rust, yeay! – $100
Front derailer – old one was rusted to hell – $60
Stem – new frame needed a different size, and besides it was rusted to hell – $25
Fork – frame required a new size – old one rusted to hell – $55
Headset – needed for new fork and stem which were 1 1/8" instead of 1" – they were rusted to hell anyway. – $20
Seat post – slightly different size needed for new frame – $20
I bought some cables and housing at my local bike shop. Actually, I tried to get all of it at my local bike shop, but they never had anything. I'd rather buy local, but everything I needed/wanted was old-school. Ebay is the only place you can find vintage new old parts. Anyway, for around $300, I built a new (mostly new anyway) bike. And it's just the way I want it.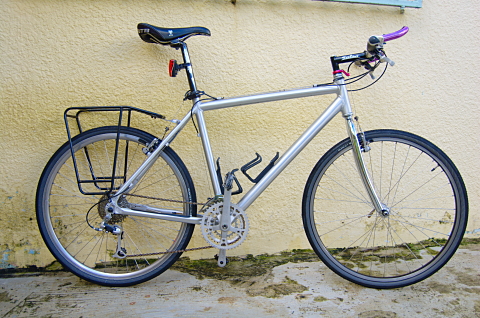 Lovely, just lovely. I saved the thumb shifters because Jose Mari, Iker's father and fellow hardcore bicycle enthusiast, once told me, "Those thumb shifters are the single greatest piece of equipment to ever come out of Shimano." The thumb shifters are dead simple, convenient to use, durable, and work well. I agree, but I also keep them around because every time I look at them, I now think of Jose Mari and his general loving adoration of bicycle equipment. Gets you right there, it does. Brings a smile to my face.
I also saved the brake calipers and cantilevers. They're aluminum and pitted a bit but still work as well as the day they were new. Maybe I'll change them at some point, but for now, they work just fine.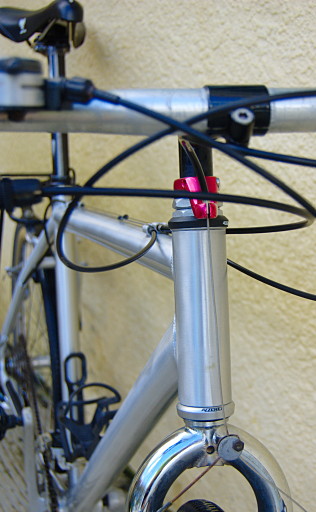 Now, after this little eulogy, and nearly 75,000 miles in nearly 15 years, I bid my former ride a fond farewell.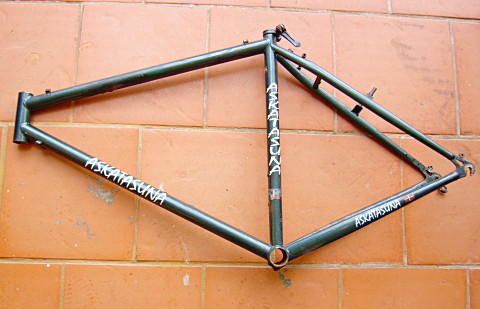 I know I am a dork.