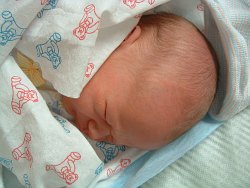 Javier Ignacio O'Malley Gorbea was born at 5:22 am on the 19th of March 2005 weighing 7 lbs 14 oz with a length of 21 inches.
From an email I wrote to my brother-in-law in Iraq, Carlos.
The little tike shot out like a rocket, 10, 9, 8 … 1 Ignition (Ignacio)
*hehe*. He cried more vigorously than the other children and when placed
on the little delivery table he tried to hide in the corner, pulling the
blue paper wrap over his face. I'm thinking he's going to be a snuggler
like Olaia. He is already feeding with his mommy and has taken to sucking
quite well just minutes after birth. Yes, he's a healthy happy, vigorous
little spark.
Laura is doing fine – delivery was quick and without complications, in
fact, I was still checking us in at the main desk when they paged me,
"Mira, Laura está a punto de…" I ran to the delivery room and there was
the little fireball in the hands of the doctor. (I almost missed it). They
handed me some sissors and ordered me to cut, "Entre ellos, aquí, rapido."
I cut the umbilical cord and looked upon the little explosion of cuteness
that was Javier Ignacio. So far as I can tell, he's got a Gorbea butt,
Gorbea ears, O'Malley chin, and Gorbea fingers and toes. Their little
faces are a little swollen when they come out so it's tough to say who he
looks like, but he's bright, luminous, and healthy and a Mr. Chispa o
Señorito Chispito. Hey that sounds good, my little chispa, muy vivo y
despierto.